Home | About | Collections | Stories | Help! | News & Links | Friends | Lets Talk! | Events & Visiting | Search
AT&T 1928 Ad: Planning high-speed business
If you have any more information about this advertisement, please contact us.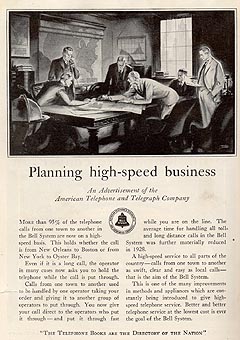 ATT: Planning high-speed business (1928)
high-speed here means that the operator connects the call
"while you are still on the line"!
Please send site comments to our Webmaster.
Please see our notices about the content of this site and its usage.
(cc) 1998- Digibarn Computer Museum, some rights reserved under this Creative Commons license.