Home | About | Collections | Stories | Help! | News & Links | Friends | Lets Talk! | Events & Visiting | Search
DigiBarn Radio:
Denton Pearson on the IBM personal computers and more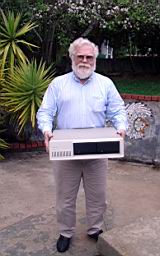 Denton Pearson and his IBM PC donations
Sitka Alaska attorney Denton Pearson made a visit to the DigiBarn on April 8th, 2005 and gave us these great stories about his IBM PC 5155 transportables and early production IBM PC/AT computer. He also tells is a great story about Nolan Bushnell and the beginnings of Atari.
Thanks Denton!!!
Denton's stories (in MP3 format)
Got a comment about this piece or want to contribute something to DigiBarn Radio? Contact us!
See Also:
Denton's donation of IBM PC 5155 transportables and an IBM PC/AT
Have a story to tell? Contact us!
Please send site comments to our Webmaster.
Please see our notices about the content of this site and its usage.
(cc) 1998- Digibarn Computer Museum, some rights reserved under this Creative Commons license.