DigiBarn Radio: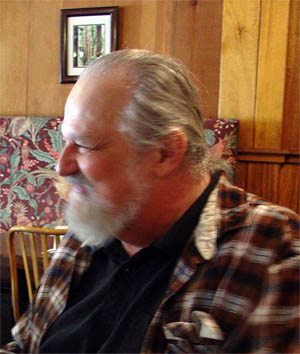 JJ Webb on the birth of the virus scanner, poetry on the (early) Internet
and much much more (Apr 11, 2005)
On April 11, 2005 we had the pleasure of listening to JJ Webb recount his history through multiple aerospace projects and assorted "get rich quick schemes" one of which was the beginnings of McAfee Associates and John MacAfee for whom JJ wrote the very first virus scanner. JJ is a highly regarded poet and organizer of poets (herd some cats anyone?) and has the distinction of being the pioneering poet on the Internet, from the days of usenet news groups in the 1980s to some of the first poetry web pages in the 90s and the very first poetry reading inside a multi user virtual world in Sherwood Forest, Alphaworld (July 1996). More about JJ Webb at his homepage.
We present several interview segments below and some photos of JJ at breakfast at the Brookdale Lodge in Brookdale, California. Joining us for the interview was Allan Lundell (DigiBarn Cofounder), his partner Sun MacNamee and yours truly Bruce Damer, Curator, DigiBarn. JJ's story is truly a life lived in tech and humor and words (and a darned good neighbor here in Boulder Creek)!
Audio of our interview with JJ




Combined interview in Apple Quicktime M4A format (with embedded pictures) This piece is narrated by Tommy Cuellar for Digibarn Radio. See Digibarn Radio for other audio podcasts!