Ted has kindly granted us permission to scan and reproduce Computer Lib/Dream Machines (thanks Ted!) in a selective and serialized fashion, as certain topics come up. We begin this process by reproducing a farseeing section on picture processing and ASCII art from page 10 of Dream Machines.
More excerpts to come from
Computer Lib and Dream Machines
Other Computer Lib/Ted Nelson links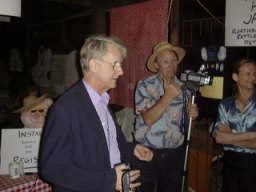 DigiBarn visited by Ted Nelson and Marlene Mallicoat
(Oct 27, 2002)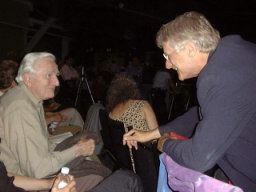 Ted Nelson on right, greeting Doug Engelbart on left
talk about a historic meeting of minds!
(taken at QuantumViz event, SF Exploratorium, June 10, 2002)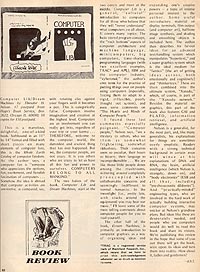 Read a review of Computer Lib/Dream Machines
in the Second Issue of BYTE Magazine, October 1975
Other Computer Lib-related links
Vision and Reality pages on Computer Lib/Dream Machines (at mprove.de)

We would like to gratefully acknowledge Ted Nelson
for his support of this history project in bringing this
important historic text to life on the Web.

We would also like to acknowledge Dan Croghan
for providing this book on loan to the DigiBarn
for the purposes of this documentation project.