Home | About | Collections | Stories | Help! | News & Links | Friends | Lets Talk! | Events & Visiting | Search
Digibarn Calculators & PDAs: Portrait of Whole Collection (2007)

In late 2006 the Digibarn acquired a single large calculator and PDA collection from one donor in the Los Angeles area. We have since built a special display and included some of our other units there. So finally the Digibarn has launched a significant effort in "smaller artifacts" of the computing age!
Bulk of single collection in original donor's home
See Also: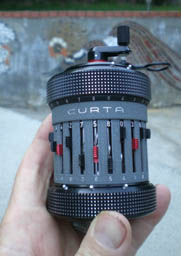 The Digibarn's Curta (from this collection)
Please send site comments to our Webmaster.
Please see our notices about the content of this site and its usage.
(cc) 1998- Digibarn Computer Museum, some rights reserved under this Creative Commons license.