Gypsy, the Computer Oracle
including the Mouse Mover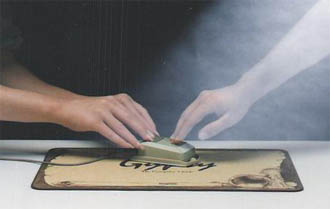 Gypsy, one of the weirdest games for the early Macintosh and Lisa.
From the The Gypsy page at the Museum of Talking Boards site:
The first computerized Ouija board was Scott McTyre's (Magnum Software) Gypsy - The Computer Oracle for the Macintosh in 1985. Gypsy came with all the necessary software and instructions. There was a board with an appropriately arcane design and a "Mouse Mover" to convert the mouse into a turbo-charged planchette. A brief introduction set the mood for the session: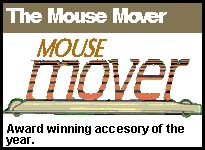 From MacUser's Editor's Choice Awards 1985 BEST ACCESSORY:
Mouse Mover from Magnum Software clips to the bottom of your mouse, adds 99 ball bearings at three strategic points. Mouse Mover makes your mouse glide faster and saves on mouse wear and tear. You either love it or hate it. We all seemed to love it.