Home | About | Collections | Stories | Help! | News & Links | Friends | Lets Talk! | Events & Visiting | Search
DigiBarn Historic Games:
The Maze Game in Hardware (Greg Thompson et al)
From Greg Thompson:

The following are the first 14 pages from the "hardware" Maze Game report from Fall 1976 that Mark Horowitz, George Woltman, and I designed and built for the MIT 6.111/6.112 digital design class. All together there are 79 pages in the report plus 73 pages of specs on the 7400 series TTL/DTL SSI/MSI/LSI boards it was built from.

The first jpg image contains a picture of the 6 rails of logic that made up the hardware Maze game. It appeared in a Scientific American article on Microprocessors by Hoo-Min Toong in Sept 1977 describing the MIT digital lab. Since the game was well beyond what was ever implemented before in the lab classes and was played with so much, the professors and TAs kept it assembled for years after the class was finished.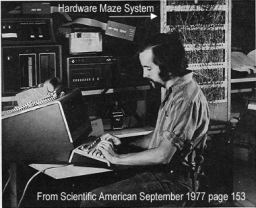 HW Maze 99.jpg
Please send site comments to our Webmaster.
Please see our notices about the content of this site and its usage.
(cc) 1998- Digibarn Computer Museum, some rights reserved under this Creative Commons license.