Home | About | Collections | Stories | Help! | News & Links | Friends | Lets Talk! | Events & Visiting | Search
DigiBarn Historic Systems/Locations:
Harvard Mark I Exhibit, Cambridge MA
The DigiBarn would like to thank Chuck Piotrowski for taking the time to take these photos and a movie of the Harvard Mark I exhibit at Harvard University down in Cambridge MA in 2005. This system was built by IBM and called the ASCC (Automatic Sequence Controlled Calculator). Click on each of the photos below to go to albums of images and descriptions of this historic computing machine.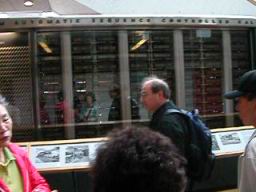 QuickTime Movie of the Mark I (4.1MB)
See Also:
IBM's pages on the ASCC (a.k.a. The Harvard Mark I)
Wikipedia's entry for the Harvard Mark I
Please send site comments to our Webmaster.
Please see our notices about the content of this site and its usage.
(cc) 1998- Digibarn Computer Museum, some rights reserved under this Creative Commons license.