Home | About | Collections | Stories | Help! | News & Links | Friends | Lets Talk! | Events & Visiting | Search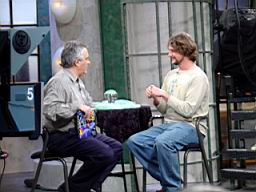 Click here to see the photos and other written details of this show
DigiBarn Curator Bruce Damer appeared on the Screen Saver's program on TechTV with Leo Laporte and company. This show aired live on Friday February 27th, 2004, 4-5pm Pacific Time with repeat broadcasts at various times.

Get Quicktime!

View the show in streaming QuickTime segments below:
(thanks Joel Dudley for recording and ripping)

Intro with Digibarn computers:
Small (320x240) 12MB
Large (640x480) 28MB

Interview:
Small (320x240) 32MB
Large (640x480) 56MB

Dvorak comments on Bruce's interview:
Small (320x240) 5MB
Large (640x480) 11MB



See other media features at DigiBarn TV and DigiBarn Radio!

Please send site comments to our Webmaster.
Please see our notices about the content of this site and its usage.
(cc) 1998- Digibarn Computer Museum, some rights reserved under this Creative Commons license.