The PolyMorphic Systems Poly 88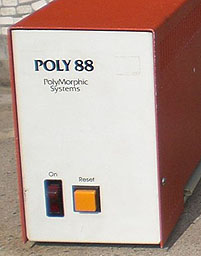 Thanks to Mark Lottor we have a beautiful PolyMorphic Systems Poly 88 in its hard case including the system, screen, home built keyboard, cassette interface and a whole tub of Poly 88 boards. This machine was derived from an earlier project to create a "micro-Altair", hence its diminutive size. It and the larger 8813 were produced by PolyMorphic Systems of Santa Barbara, California in the 1977-78 period (and perhaps later?).


Hear Mark Lottor describe the Poly 88 (11 MP MP3)
Know anything about the Poly 88? Contact us!