Commodore Amiga 500
With 501 Expansion Card, floppy, hard disk
Thanks Tom Wilson for this fine Amiga 500 system, complete, good condition with an extra floppy disk drive, 40MB hard drive, 3MB RAM, and monitor.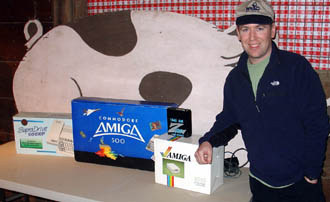 Tom and his mint Amiga 500 donation
Comment from Digibarn visitor Curtis Grant (May 2, 2006)
I noticed you have an Amiga 501 memory expansion, an Amiga 2500, and an Amiga 3000. I just wanted to warn you about laeky batteries. All three have a battery that backs up the clock, and over time it leaks crud all over the place! The battery is a big blue barrel-shaped object. In the A2500, it's at the front of the motherboard. In the A3000, it's on the left side of the motherboard. The A501's battery is locked inside the metal case with the RAM card, so if it's leaked, you'll have to cut open the case. All three batteries can be easily clipped off without affecting anything about the computer's operation other than that the clock doesn't remember the time you set it at after you turn the computer off. More info can be found at
https://members.iinet.net.au/~davem2/overclock/batt.html
Otherwise, there is a lot of interesting historical information on Amigas on the Net, the best being
https://www.amigahistory.co.uk/
and
https://www.amiga-hardware.com/
Know anything special about Commodore or this system? Contact us!
See Also:
The DigiBarn's full collection of Commodore computers and artifacts