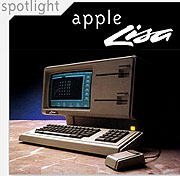 Apple Lisa 1 Development Unit
Apple's Lisa computer was introduced in January of 1983. Legend has it that Steve Jobs returned from a trip to Japan just after the Lisa began to ship, called his team to a meeting and out of his shirt pocket drew out a new Sony 3 1/2 inch diskette saying "this.. is the future". He then ordered production stopped so the Lisa could be equipped with the new diskette drive. Thus, the Lisa 1 with its dual "twiggy" 5 1/4 inch floppies was consigned to the dustbin of history and the Lisa 2 was released some time later. Its comparative rarity makes the Lisa 1 a desirable machine and one that the DigiBarn is pleased has been added to its collection (thanks Ed Goodwin).
| | |
| --- | --- |
| | Inserting a fileware format floppy into a Lisa 1 |
The Apple Lisa 1 as pictured from advertizing with the original front bezel
Our Lisa 1 is a development unit that Apple service engineering Manager Ed Goodwin had on his desk. At some point, to stay current he removed the two Twiggy drives and replaced them with a profile hard disk/3 1/2 inch floppy disk unit to stay compatible with the Lisa 2. Ed did not keep the original Lisa bezel after replacing it with the Lisa 2 bezel for the 3 1/2 inch drive. Our Lisa 1 supports the same mouse that the Macintosh was released with in January of 1984 rather than the original "thin button" Lisa mouse shown below (which we are still seeking).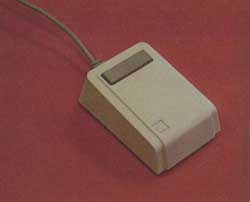 Original Lisa 1 Mouse (which we do not yet have)
The Lisa 1 at the DigiBarn
(thanks Ed Goodwin)