Columbia Data Products (luggable)
Columbia Data Products was founded in 1976 and had the honor of producing the first clone of an IBM PC 5150 which it released in June 1982. That computer was the Columbia MPC (for Multi Personal Computer). The Digibarn has another Columbia system, which seems to be a luggable version of the MPC. Rumor has it Columbia ran afoul of IBM in its effort to market a competitor to the IBM PC, leading the new company Compaq to develop its clone of the IBM ROM BIOS using a legally watertight backward-engineering strategy (see our pages on the Compaq here). In between Columbia and Compaq came Eagle Computers Inc. with its Eagle PC (which is an interesting story in its own right).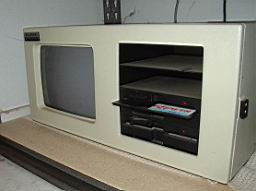 The Columbia luggable with dual floppies and storage areas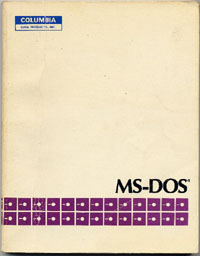 Columbia DOS manual cover (thanks Jeff Gahagan)
Know any more about this Columbia? Contact us!
See Also:
DigiBarn's original IBM PC 5150 and IBM Portable PC 5155
Eagle PC and Compaq Portable
Columbia Data Products company history (and current site)
Old-Computers.com's page on the Columbia MPC