Commodore Colt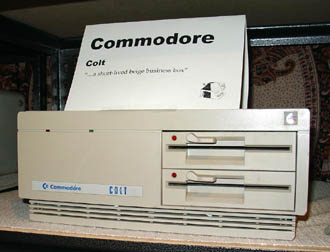 Commodore Colt at the DigiBarn
From Commodore Turns Blue, the Zimmer's page on the Commodore
8086/8088 business machines including the Colt
The first machines Commodore produced in this line were 8088-based, and usually came with the maximum 640K of addressible memory. Most of these machines come standard with at least one 5.25" floppy disk drive, 25 pin serial COM-port, 25 pin parallel Centronics port, a Commodore "bus" mouse port, and both RGBI and composite video output ports. The most famous machine in this line is the Commodore Colt.
From the Commodore Hall:
The COMMODORE Colt is a 1988 machine, so its a post-Tramiel machine. It is based upon the INTEL 8088 at 4.77 Mhz.( or 7.16 Mhz. turbo). It has 640 kB. of RAM and has a PC-XT compatible BIOS with Autoconfig, which was quite an improvement. Monochrome screen, compatible with MDA, CGA, Hercules and Plantronics. Originally it had two 5.25 " floppy drives, but one has been exchanged for an 3.5 " 360 kB. disk drive that could be reconfigured to a 720 kB. one. Hard disk interface on the motherboard. Commodore 1352 mouse. Centronics parallel, RS 232 serial. Three expansion slots. OS: MS DOS 3.2
Know anything special about Commodore or this system? Contact us!
See Also:
The DigiBarn's full collection of Commodore computers and artifacts
The PC Museum's page on the Commodore Colt
Commodore Turns Blue, the Zimmer's page on the Commodore
8086/8088 business machines including the Colt and dont miss
their tremendous Commodore Gallery
More on the Colt and all other Commodore machines at the Commodore Hall