Home | About | Collections | Stories | Help! | News & Links | Friends | Lets Talk! | Events & Visiting | Search
DigiBarn Parts:
Boards from a Cray-1 Supercomputer (#38 and others)

The following is just a sampling of the approximately 160 boards we have from our Cray-1 Supercomputer (#38) and some other Cray-1 processor serial numbers (which are stamped on many of these boards). All of these boards are mounted on copper plates and most are dual sided. All are distinguished as Cray-1 boards by their single prong wire connectors.


Know anything about Cray Supercomputers? Contact us!
See Also: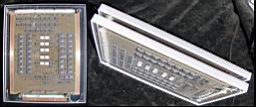 Our original Cray board mounted in lucite (from Tony Cole)
Back to our main site on the Cray Supercomputers at the DigiBarn
Please send site comments to our Webmaster.
Please see our notices about the content of this site and its usage.
(cc) 1998- Digibarn Computer Museum, some rights reserved under this Creative Commons license.