Home | About | Collections | Stories | Help! | News & Links | Friends | Lets Talk! | Events & Visiting | Search
Sinclair ZX81 Home Computer
Known in the US as the Timex Sinclair 1000, the ZX81 was one of the most affordable and versatile small computers that could run BASIC. Thanks Craig Rockweiler for this wonderful donation!



CIMG3504.JPG

CIMG3505.JPG

CIMG3506.JPG

CIMG3507.JPG

CIMG3508.JPG

CIMG3509.JPG

CIMG3510.JPG

CIMG3512.JPG

CIMG3513.JPG

CIMG3515.JPG

CIMG3516.JPG

CIMG3518.JPG

CIMG3520.JPG

CIMG3522.JPG

CIMG3524.JPG

CIMG3525.JPG

CIMG3527.JPG

CIMG3529.JPG

CIMG3531.JPG

CIMG3532.JPG

CIMG3533.JPG

CIMG3536.JPG

CIMG3537.JPG

CIMG3538.JPG

CIMG3539.JPG

CIMG3540.JPG

CIMG3542.JPG

CIMG3543.JPG

CIMG3545.JPG

CIMG3546.JPG

CIMG3547.JPG

CIMG3548.JPG

CIMG3549.JPG

CIMG3550.JPG

CIMG3551.JPG

CIMG3552.JPG

CIMG3553.JPG

CIMG3555.JPG

CIMG3556.JPG
Comments from Digibarn Virtual Visitors:
From Bert Rose, 23 November 2007
I ordered my Sinclair from an advertisement in Popular Science magagzine and I paid 169.99 for it. When the kit was assembled - it did not work - but help was immediately at hand for there was an address which assembled but non functioning Sinclairs could be sent for repair. A month after sending it off - it returned and I began my learning curve.

In 1983 I had purchased both the 16K memory expansion and the thermal printer. I carefully crafted my own Christmas cards and printed them - a close friends mother commented when she received her card that she was amazed at such technology being available for home use.
Know anything more about the ZX81? Contact us!
See Also: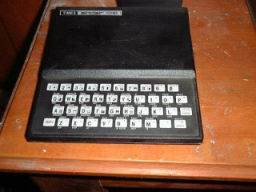 The Digibarn's Timex Sinclair 1000
Wikipedia on the on the Timex Sinclair 1000 (zx-81)


ZX81 Museum a site dedicated to the classic Sinclair ZX81
Please send site comments to our Webmaster.
Please see our notices about the content of this site and its usage.
(cc) 1998- Digibarn Computer Museum, some rights reserved under this Creative Commons license.