Texas Instruments Tymshare 100 (Silent 700)
Portable Data Terminal
The Texas Instruments Tymshare 100, also known as the Silent 700, is a classic in the genre of the portable data terminals using an acoustic coupler modem (so an oridinary phone handset could be interted) and a printer as an interface. This system may have been as old as 1973 (date on the documentation) and shows a service note sticker dated 1978. The BASIC reference card from Tymshare is dated 1969. The unit is so heavy it is hard to imagine anyone other than a body builder carrying it through an airport! Thank you Robert Munoz for this donation.
From our research, this terminal seems to have been designed to connect to the Tymshare mainframe, a PDP-10 clone. There is another online account that this terminal (the Silent 700) was a terminal that could be connected to a
Terminal IMP (TIP) in the ARPA Network.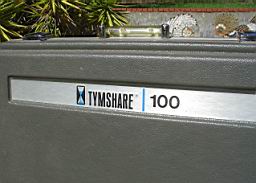 The Tymshare 100 (Silent 700)

From the alt.folklore.computers newsgroup
the following posts talk about the Silent 700:
Subject: Re: were dumb terminals actually so dumb???
From: Anne & Lynn Wheeler <lynn@garlic.com>
Date: Wed, 28 Apr 2004 11:57:18 -0600
ISTR the desktop Silent 700s being termed intelligent. They had dual data cassette tape program and data storage that could be up-/downloaded under host control and run key-to-tape programs with validation offline. I don't remember smart or intelligent being applied to video terminals with cursor addressing or any level of control character or escape sequence support
From: "Foobar T. Clown" <fubar@gazonk.del>
Date: Wed, 28 Nov 2001 08:56:02 GMT
Silent 700? I loved those things! I mean, here was this computer terminal, with a modem built in, and it closes up like a briefcase with a handle on it and everything. You can take it with you pretty much ANYWHERE as long as you had a telephone (Note: TELEPHONE, not phone LINE) and a power outlet. How cool was that? The paper was expensive as hell, but what are you going to do? Travel with an LA36 so you can save a few bucks by printing on plain paper?
One of the math teachers at my high school had the APL version. How many terminals can you name off hand that were available with APL keycaps? I never got into APL myself, so I can only name one.
From: Charles Richmond <richchas@comcast.net>
Date: Sat, 24 Apr 2004 23:48:54 GMT
For latter day hardcopy terminals, do *not* forget the TI Silent 700. It printed on heat-sensative paper (yuk!) and
had a 300 baud modem on the back...complete with the acoustic coupler. Some models contained bubble memory...
Know more about this artifact? Contact us!