TRS80 Model 100/102 Tablet PC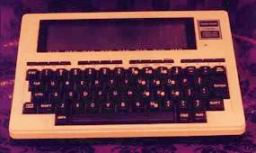 Described as "the original laptop computer" the model 100 was beloved of journalists and anyone who had something to write but needed to be mobile. This lovely little tablet could run for what seemed like an amazing amount of time (days of on and off use) on just four AA batteries. The built in modem allowed writing created on the surprisingly usable keyboard to be uploaded to another computer or printer. And this was back in 1983 well before the advent of the power hungry, luggable laptop with its dial-up capabilities. The world could learn a lot from the "100" in terms of good light weight design and simple utility. The DigiBarn has a couple of model 102s and a lovely good as new model 100 (see below).
See our gorgeous Model 100 (thanks Kevin Laney)

Club100, the Model 100 User's Group (brought to you by Rick Hanson) has the following to say about the 100 and 102:
The Model 100 and 102 are work-alike machines with a maximum RAM capasity of 32K less over head. To a very large extent, you will see no working differences. Both machine have built-in BASIC, TEXT, TELCOM, ADDRSS and SCHEDL, an RS232c serial port, a 26-pin parallel port, a 40-pin system buss, a bar code reader port, and a built-in 300 baud modem. The LCD is 40 characters by 8 lines and operates at 600 baud...
The Model 102 is significantly better "technically" than the Model 100. Both are wonderful machines, but the Model 102 is thinner, lighter, the function keys are laid out more conveniently, and the keyboard is a joy to use vs. a Model 100. The 102 keyboard is notably smoother, faster and quieter than the best Model 100 ever was. The bit-level technician, programing machine language routines and option ROM accessible programs will find a number of slight technical differences but nothing that can't be handled easily by the seasoned technician. Yet again, the average user will see no differences.
The 102 is also more durable than the 100; so I have noted. Its surface mount technology seems to hold up better over the long run, and the 102 gets better battery mileage than the 100. And last: There are more good Model 102s in the world that Model 100s. Finding a good Model 102 is much easier then finding a good Model 100.
In either case, both the Model 100 and Model 102 are "friendly" computers. For those of us who love to write, having a Model "T" as a constant companion simply makes life more civilized. And again, the ability to easily transfer ASCII text files between the Model "T" and an other computer via the RS232c port make using a Model "T" for remote writing and data collection a joy.