Apple@30
1976: Apple in the Garage
Panel to be held at the Vintage Computer Festival 9.0
Saturday November 4th, 2006, 1:00 pm at the
Computer History Museum, Mountain View, CA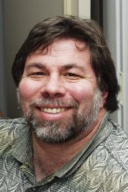 A Silicon Valley icon and philanthropist for the past three decades, Steve Wozniak, Founder, Chairman and CEO of Wheels of Zeus (wOz), helped shape the computing industry with his design of Apple's first line of products the Apple I and Apple II and influenced the popular Macintosh. For his achievements at Apple Computer, Steve was awarded the National Medal of Technology by the President of the United States in 1985, the highest honor bestowed America's leading innovators.
In 2000 Steve was inducted into the Inventors Hall of Fame and was awarded the prestigious Heinz Award for Technology, The Economy and Employment for "single-handedly designing the first personal computer and for then redirecting his lifelong passion for mathematics and electronics toward lighting the fires of excitement for education in grade school students and their teachers."
Making significant investments of both his time and resources in education, Wozniak "adopted" the Los Gatos School District, providing students and teachers with hands-on teaching and donations of state-of-the-art technology equipment. Wozniak founded the Electronic Frontier Foundation, and was the founding sponsor of the Tech Museum, Silicon Valley Ballet and Children's Discovery Museum of San Jose.
Steve is currently a member of the board of directors for Jacent, a developer of cost-effective telephony solutions, and Danger, Inc., developer of a end-to-end wireless Internet platform.
Steve's main personal page is at www.woz.org and see more stories about him at Folklore.org.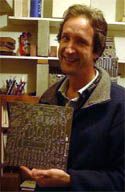 Daniel Kottke was hired by Woz and Jobs to help assemble Apple 1 boards (for those who purchased the assembled versions) and joined the effort (in the garage) on June 30, 1976. Daniel went on to a great career at Apple which included working on the Apple II and III and being a member of the legendary Macintosh team (his signature is embossed in the early Mac cases). More about Daniel and his Apple hardware innovations at this page at the Digibarn.
More on Daniel at the stories on Folklore.org.

Randy Wigginton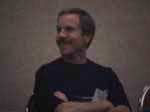 Randy Wigginton (from his listing at Wikipedia) was one of Apple Computer's first employees (#6), creator of MacWrite, Full Impact and numerous other Mac applications. He used to work in development at eBay and now works at Quigo, Inc.
Wigginton was a student at Homestead High School in Cupertino, California, interested in computers just as the earliest microprocessor-based computers were being assembled by hobbyists. He had heard about the Homebrew Computer Club but had no way to get there until he started getting rides with another club member, Steve Wozniak. The two hit it off, and Wigginton became one of Apple's earliest employees in 1976, and was present with Woz when the Apple I was first presented to the world at a Club meeting.
Wigginton collaborated with Wozniak on the circuit design and ROM software for the Apple II in 1977. As Woz wired up color graphics circuitry, Wiggington wrote machine language graphics subroutines, and Chris Espinosa, another high school student, wrote demo programs in BASIC. Wigginton wrote several early programs for the Apple II, including a checkbook-balancing program co-authored with Apple's vice-president of Marketing Mike Markkula.
Perhaps his most critical early contribution was the RWTS (read/write track-sector) routines for the Disk II, the 5 1/4" floppy disk controller introduced at the Consumer Electronics Show (CES) show in early 1978. Wigginton and Wozniak wrote the final version of the software in Wozniak's hotel room on the eve of the show.
In 1979 Apple's President Mike Scott enlisted Wigginton to write a secret competitor to VisiCalc, to use as leverage against VisiCorp (then Software Arts). To keep the project under wraps, it was given the code name Mystery House.
Wigginton left Apple in September 1981 and formed Encore to work on his own. However he was quickly contracted by Apple to help work on MacWrite on a semi-formal basis. When the Apple Macintosh shipped in 1984 he again turned to his own projects, starting a new spreadsheet that would eventually be released after four tortuous years as Full Impact.
More on Randy at the stories on Folklore.org.


Chris Espinosa (from his listing at Wikipedia) was one of Apple Computer's first employees (#8),
He joined the company at the age of fifteen in 1976 when it was still housed in Steve Jobs' parents' garage, writing software manuals and coding after school. Espinosa entered the University of California, Berkeley, where his freshman advisor was Andy Hertzfeld.
In 1981, Espinosa became a member of the Apple Macintosh team, and has worked on many projects at Apple since, including Mac OS, A/UX, HyperCard, Taligent, Kaleida Labs, AppleScript, and Mac OS X. He is now a development engineering manager on the Xcode team.
See more on Chris at Folklore.org.

Event Host: Bruce Damer




Bruce Damer is co-founder and Curator of the DigiBarn Computer Museum in the Santa Cruz Mountains of the Bay Area of Northern California. He has a passion for both the history of visual computing and a practice in the virtual worlds business as CEO of DigitalSpace Corporation and the author of the first book on Avatars and multi-player games on the Internet. Bruce will introduce the Apple@30 panel with a brief presentation and then pass it on to the group to tell the story of 1976: Apple in the Garage. We are working hard to have some historic running Apple 1 hardware for hands-on experiencing during the panel and VCF. More about Bruce's wacky life here.

Event Producer : Sellam Ismail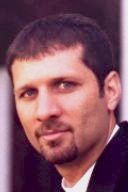 Sellam Ismail spends most of his time curating the Vintage Computer Festival Archives and runs two businesses: a consulting firm called VintageTech, in which the Archives are applied towards commercial and academic pursuits, and e-Cycle, an electronics recycling facility serving the Silicon Valley area.
If anyone out there was there and/or has insights into Apple in '76,
please get in touch, we need your help!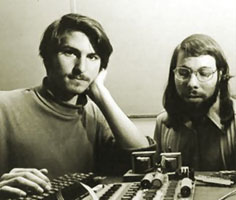 Return to Apple@30 main page