The Digibarn open house of August 11th, 2007 was a sweet event, especially for me as curator, after having worked for a solid week to set everything up again. Due to illness in the family the usual tours that started in May were postponed until this month. I was intent on making this the best installation yet. This year we have more systems and other artifacts on display than ever, using ever more tables and shelves, along with cool lighting and decotation. We had a good turnout for a lovely summer day (18 people) and we learned how mechanical flight computers work (see below)!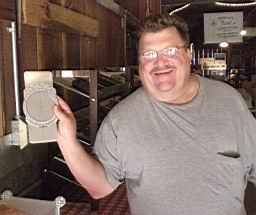 Dan Eggerding and Janek Kaliczak, both pilots
explained how our recently donated E6-B (9) flight computer works
Thank you all for making the trek out to the Digibarn today! Also see our complete pictorial tour of the Digibarn here.
Arrivals and tour of the Farm
See Also: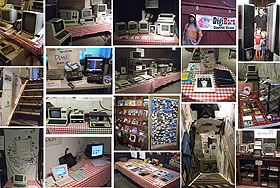 Our 2007 complete pictorial tour of the Digibarn here
Back to Events and Visiting the Digibarn