Home | About | Collections | Stories | Help! | News & Links | Friends | Lets Talk! | Events & Visiting | Search
DigiBarn Stories:
Ryan Norkus' Visualization of the Sac State 8008 (1972-73)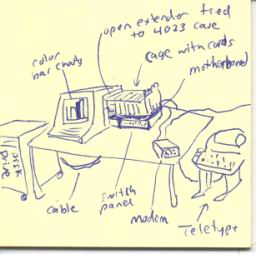 Bruce Damer;s sketch from Bill's description
The following is a 3D reconstruction of Bill Pent'z Cal State Sacramento 8008 system as it might have looked in 1972-73.
Please send site comments to our Webmaster.
Please see our notices about the content of this site and its usage.
(cc) 1998- Digibarn Computer Museum, some rights reserved under this Creative Commons license.