More on this topic:
From Donna Rosebaugh
Just saw your webpage. Please be informed that the drawing of the "Carlsbad House" [curator's note: we had it misnamed as "Carlsbad House"] is not named correctly. This AutoCAD drawing is of the Carson Mansion, in Eureka, California. I was attending the AutoCAD course at College of the Redwoods, Eureka, California, at the time this drawing was made. I don't have the name of the young man who did the drawing, but he was terribly talented. The version of AutoCAD we were studying was approximately 2.1, R3, I believe. It was so long ago, I can't recall the exact year, or the version of CAD we were using. The instructor's name was Mr Voytek (sp). This AutoCAD drawing has been widely copied and used in many CAD magazines as well. I doubt the drafter was ever given his due, but he certainly should have been. He drew it in class, and it took him a long time.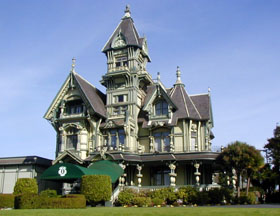 Please see https://www.eurekaheritage.org/the_carson_mansion.htm. The addition on the right of the building is not in the CAD drawing.
Thank you. I hope you will correct your web page.
Donna Rosebaugh
Old CAD drafter, Eureka, CA. 95501
See Also:
Autodesk, publisher of AutoCAD
Evolution Computing's FastCAD & EasyCAD
Prof Landon's History of AutoCAD
MD Design's History of CAD