Home | About | Collections | Stories | Help! | News & Links | Friends | Lets Talk! | Events & Visiting | Search
VisiCalc for the IBM PC 5150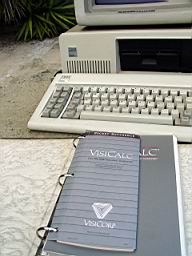 VisiCalc for the IBM PC, shipped in August 1981
VisiCalc from VisiCorp was one of the "killer apps" that was ported from its successful propagation on the Apple II and other platforms to be able to be introduced with the IBM PC on its introduction on August 12, 1981. The following is the manual and software for the first edition of VisiCalc for the IBM PC.

See Also:
Our IBM PC 5150

Please send site comments to our Webmaster.
Please see our notices about the content of this site and its usage.
(cc) 1998- Digibarn Computer Museum, some rights reserved under this Creative Commons license.